In essence, one thing determines which E-commerce Platform you should select: The Customer Experience.
Which type of customer experience do you want to and need to create, in order to sell your products?
80% of all E-commerce stores most likely are well off with a standardized "one-size-fits all" E-commerce platform; however, the remaining 20% should think carefully about which customer experience they would like to provide their customers with.
In that aspect, especially three factors matter:
The number of products you sell
How complex these product are to sell
Types of delivery.
The number of products you sell
If you sell a lot of products, your core E-commerce features must be able to comply with this. Search, filters, the navigation, Up-/ Cross Selling, Checkout, etc. must make it easy essentially to locate and buy your products.
On top of this, Personalization tools, Subscriptions, Omnichannel features, etc. requires a "No Limit" programming-based E-commerce Platform. The added complexity of this rules out many standard E-commerce Platforms.

How complex the products are
The more complex your products are, the more difficult they are to sell. Customers may have to complete guides, product comparison features, intelligent filters with help texts, etc. in order to buy, based on a guided sale. This also rules out many standard E-commerce Platforms, as these are not "out-of-the-box" features, which need to be programmed specially to suit your product portfolio.

Types of delivery
If you would like to provide complex types of delivery—such as split orders—and your checkout flow must be deeply integrated with Customer Clubs, etc., you must be able to program a checkout that enables this.

The Customer Experience based E-commerce Platform
The reasons above—and many more—are the reasons why we have built the CustomerScale E-commerce Platform.
We have programmed a "No Limit" fronted where all the core features—Search, Filters, Navigation, Checkout, etc. complies with the high-end feature needs of E-commerce companies that sell many products that can be complex to sell with a tailor-made checkout: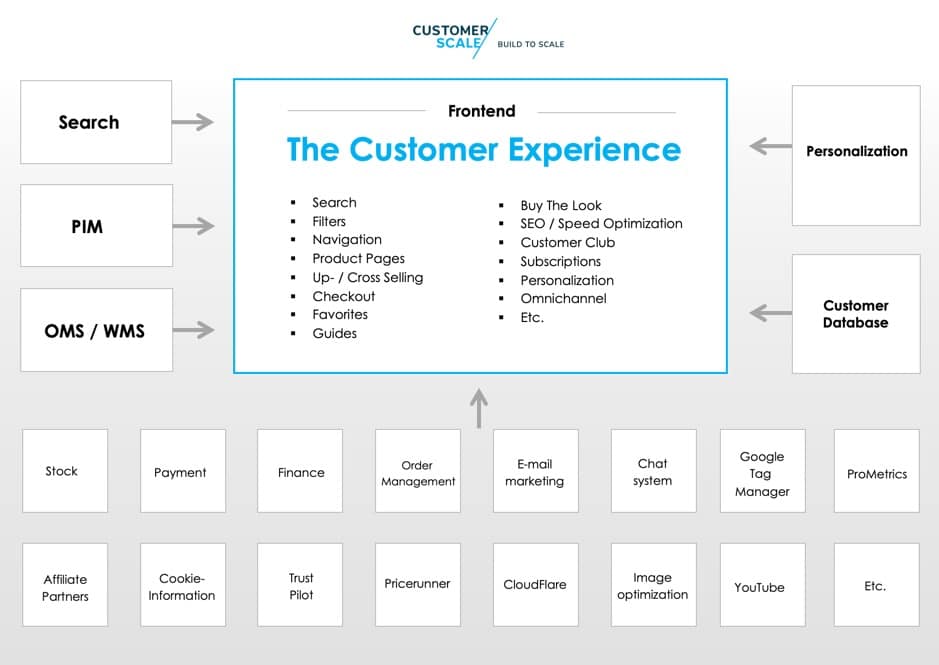 CRO
The CustomerScale E-commerce Platform is based on Best Practice E-commerce / CRO templates & features, which have been built and tested across a multiple number of industries during the last 18 years.

Seamless integrations
The platform seamlessly integrates with Best of Breed Search, PIM, OMS/WMS and Personalization systems, etc., which makes it possible both to design a high-end Customer Experience, but also to integrate with the systems needed to provide high-end Order Management, Delivery and Finance setups.

SEO / Speed Optimization
One of the Achilles heals of many E-commerce Platforms is poor SEO and slow load speeds. As these factors are business critical, the CustomerScale E-commerce Platform is based on intelligent cache and load structures, which both creates a fast page load Customer Experience and top search engine rankings.
Headless Platform
In order to provide full flexibility, the CustomerScale E-commerce Platform both can be launched as an Monolithic E-commerce / Commerce-led and a Headless E-commerce Platform.
Learn more about the CustomerScale E-commerce Platform here